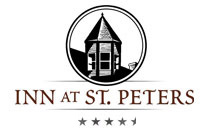 Planning your next getaway has never been easier.
1668 Greenwich Rd. • St. Peters Bay, PEI C0A 2A0
Ph. (902) 961 2135 • Fax (902) 961 2238 • Toll free: 1 800 818 0925 • Email: info@innatstpeters.com
Things To Do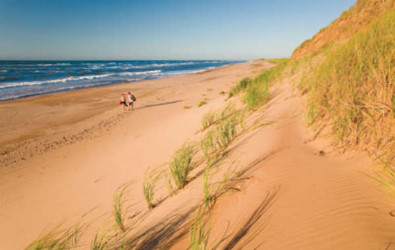 Beaches
Prince Edward Island has some of the world's most beautiful beaches. You are never far from the ocean on Prince Edward Island and with the warmest waters north of North Carolina it is perfect for swimming. To find out more about the many beaches on PEI visit www.tourismpei.com/pei-beaches


Birding
From March to late fall, more than 330 species of birds either visit or call Prince Edward Island home. The Blue Heron and the Bald Eagle (both of which can be seen from the Inn) along with the endangered piping plover are examples of some of the winged creatures found on the Island.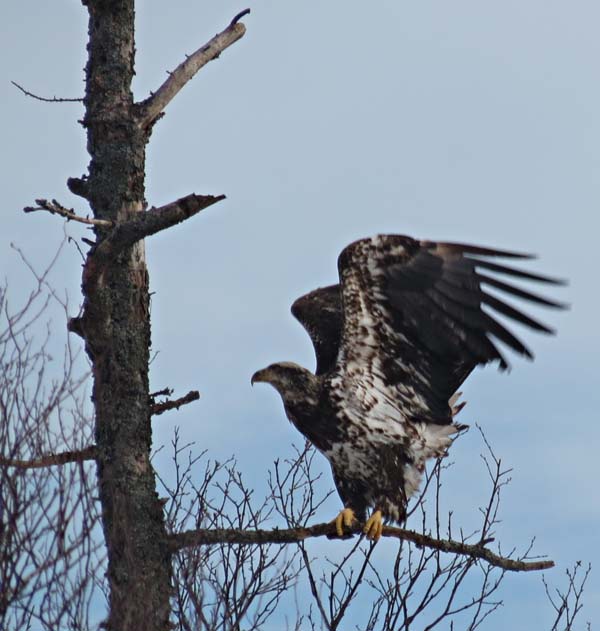 Photo of a Bald Eaglet on PEI taken by Lissa Perkins

Greenwich National Park (see below) (5 minutes) and East Point (40 minutes) are both superb spots to take the binoculars.
An excellent resource for birding on PEI can be found at www.tourismpei.com/pei-birding. Here you will find suggested viewing locations along with a PEI field checklist.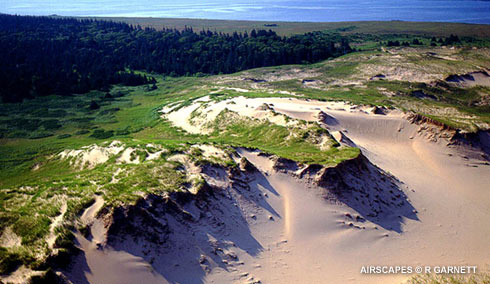 Dunes at Greenwich, Prince Edward Island National Park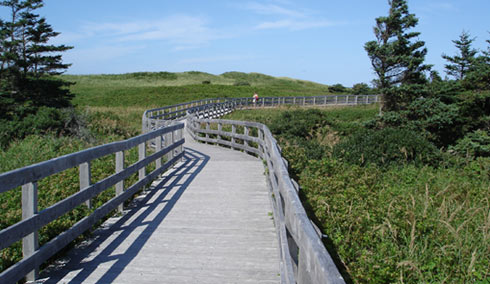 Boardwalk at Greenwich, Prince Edward Island National Park
Greenwich National Park
A short 5 minute drive from the Inn, Greenwich Peninsula has become the focus of naturalists from around the world, with the 1999 opening of Greenwich, Prince Edward Island National Park. The Inn at St. Peters is the nearest available accommodation to these four hundred hectares of undisturbed sand dunes, wetlands and forests.
International visitors are fascinated by the massive parabolic dunes of Greenwich, constantly in motion and unique in North America. The National Park also provides access to spectacular north shore beaches. A state-of-the-art, interactive Interpretation Centre is located nearby.
Archeological digs on Greenwich peninsula have unearthed centuries of artifacts, evolving through numerous Aboriginal cultures to the 1700s when "St. Pierre du Nord" was a large Acadian settlement.
Gardening
The Inn is home to over 25,000 plants and flowers in addition to our vegetable and herb garden. Our Gardeners Lynn Larkin and Garth Keeping are happy to answer your questions or talk to the Chefs as they forage the gardens for that evening's dinner. Other notable gardens on the Island include the Dunes Studio Gallery and New Glasgow Country Gardens.
Confederation Trail
Built on abandoned railway lines, the Confederation Trail runs from one end of the Island to the other. From Tignish on North Cape to Elmira in Points East, the 279 km trail is the perfect spot for biking and hiking. The trail from the community of Morell to St. Peters is considered one of the prettiest sections of the trail as it meanders along the stunning coastline of St. Peters Bay. Additional information on the trail can be found at www.gov.pe.ca/visitorsguide/index.php3?number=1016641
Anne of Green Gables
No mention of the Island would be complete with a reference to Lucy Maud Montgomery's most famous character, Anne of Green Gables. The majority of "Anne sites" are located in Cavendish a busy tourist community which is an easy one hour drive from the Inn. www.gov.pe.ca/visitorsguide/index.php3?number=1014602
Îles de la Madeleine
The Inn at St. Peters is the perfect spot to stay before embarking on your trip to the Îles de la Madeleine. A short 20 minute drive to the dock in Souris makes the Inn a convenient place to spend the night before catching your 1:00 p.m. ferry the next day. http://www.ctma.ca
Lighthouses
It is believed that PEI has the highest concentration of lighthouse structures in any province or state in North America. This website will tell you everything you want to know about them. peilighthousesociety.ca/home.php
Deep Sea Fishing/Bluefin Tuna Fishing
Whether it's hauling in lobster or fishing Giant Bluefin Tuna, PEI has a number of charters waiting to take you out on the water. Head to North Lake, the Bluefin Tuna Capital of the world to try your hand at catching these 1,000 lb. fish. http://www.tourismpei.com/pei-deep-sea-fishing. Some of our favourites for Bluefin Tuna fishing are Bruce Brothers Fishing Charters http://peibluefintunacharters.com/, Paradise on the Sea Adventures http://www.peitunafishing.ca/, Bruce's Tuna Charters http://brucestunacharters.ca/ Tony's Tuna Fishing http://www.tonystunafishing.com and North Lake Charters ttp://northlakecharters.com/tuna_charters_pei/
Fly Fishing
With numerous spring fed streams, PEI has some of Canada's best fly fishing. On the Fly PEI operated by Cameron Ross is your private guide who will take you to fishing heaven. Find out more about him on his Facebook page www.facebook.com/peiflyfishing or web site www.ontheflypei.ca .

Craig Ono of Flyfishpei.ca lives in Morell near the Morell River, renowned for it's salmon and trout fishing. A short 10 minute drive from the Inn, you'll be casting in no time!

Festivals, Theatre & Events
From June through September the Island is awash with Festivals, Events and Theatre. Following you will find a partial list of events to see. For a complete list visit TourismPEI.com and for events in our region visit the Points East Coastal Drive website pointseastcoastaldrive.com/festivals-events
Theatre
St. Peters Courthouse Theatre
St. Peters June-September www.courthousetheatre.com
Anne of Green Gables
Confederation Centre, Charlottetown June 27-September 26, 2020
www.confederationcentre.com
Anne and Gilbert
The Guild, Charlottetown April 28-October 21, 2020
www.anneandgilbert.com
Victoria Playhouse
Victoria by the Sea June-September
www.victoriaplayhouse.com
Festivals
Mermaid Tears Seaglass Festival
Souris July 25/26 2020
peiseaglassfestival.com/
St. Peters Wild Blueberry Festival
St. Peters July 25-August 2, 2020
www.facebook.com/pages/St-Peters-Bay-Wild-Blueberry-Festival-and-Homecoming/322930121108659
Dundas Plowing Match
Dundas August 28-30, 2020
Festival of Small Halls
Province Wide June 7-21 2020
www.smallhalls.com
Indian River Festival
Indian River June - September
Jazz and Blues Festival
Charlottetown June
www.jazzandblues.ca
26th Annual PEI Bluegrass & Old Time Music Festival
Rollo Bay July 3/4/5/ 2020
www.bluegrasspei.com/rollobay.htm
PEI Shellfish Festival
Charlottetown September 17-20, 2020
www.peishellfish.com
Fall Flavours Festival
Island-wide September 4- October 4 2020
www.fallflavours.ca
Events
Old Home Week / PEI Provincial Exhibition
Charlottetown August 14-20 2020
www.oldhomeweekpei.com
"Beautiful views, friendly staff, fantastic food. Great times in the Maritimes!"
– Jamie and Jackie L.